I'm a devoted fan of the Showtime series The United States of Tara starring Toni Collette, one of my favorite actresses. If you haven't seen it, you should check it out. Coincidentally, it's set here in Overland Park, Kansas.
Like Tara, I've been struggling, although I certainly don't have DID. I've wanted to write about it but I haven't. Writing it makes it real and makes me vulnerable. Yet this is what writing & blogging are about: letting the real me hang out, guts and all. And not being afraid of what you'll think.
I'm depressed. I feel guilty admitting it because I'm pregnant, which means I'm supposed to be glowing, giddy and gushing all kinds of positive stuff. Don't get me wrong–I love this little red bean and I'm excited to meet her in October–but my depression is lurking around, making it hard to be happy much of the time.
Some of you may remember Infertile Erin (she was not a blogger, however), who went through so much to conceive her twins 6+ years ago. Infertile Erin pitched her bottle of Prozac as soon as she saw the two pink plus signs. She sits on my shoulder reprimanding me for "wallowing," wagging her index finger at me. She doesn't understand how I can feel like this when such a precious gift has simply found its way here–without going through grueling in vitro this time. Infertile Erin makes me feel ashamed.
(There are other Erins, of course. There's Mean Mommy Erin who yells at the kids too much. There's Cranky Wife Erin who nags at her husband incessantly. There's Bad Friend Erin who has all but disappeared and is terrible about keeping in touch. And there is Happy Pregnant Erin, but she usually reserves her appearances for doctors' visits and a few short hours afterwards. Let's not forget I-Feel-Fat Erin, who both loves and loathes her growing belly at the same time.)
Ironically, the red bean was conceived in the midst of a major depressive episode, the worst one I've had in a very long time. I was already in therapy and taking medication (Cymbalta), but after I fell in the pit my psychiatrist increased my dosage. Just when I was beginning to feel human again, we found out I was pregnant and I immediately had to wean off of it. I switched to Prozac because it's a much older drug, and there have been far more studies done on its side effects, etc. Not taking anything was not an option, and still isn't. Even my OB maintains that "A happy mom means a happy baby," and I agree.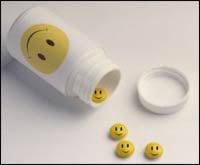 Only I haven't been happy. So my doctor just increased my Prozac dose.
Some people may read this and strongly disagree with my decision to take anti-depressants while pregnant. Those people have not been in my shoes. Both my psychiatrist and my OB are fine with my taking Prozac, and they're actually encouraging me, especially given my history. Depression runs in my family and I have been living with it for most of my life. I can feel myself slipping off the edge and I know when it's time to call in the big guns.
That time is now.
This will not last. I won't let it. But it's probably more common than people realize. We often hear about depression and PPD, but what about depression during pregnancy? It does exist. And it doesn't have to go untreated. I know there are others out there like me–other women who are pregnant and dealing with depression. I'd love to hear from you.
***Today a blessing appeared in the form of a post written by Aunt Becky of Mommy Wants Vodka. Please go read about her experiences with antepartum depression here: (barely) Surviving Prepartum Depression.