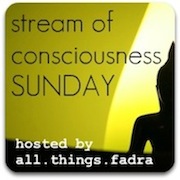 I met
Fadra
at Blissdom last month and she's always been a blogger I admire, but I'm mostly a lurker over at her place. (she 
tweets here
) Today, however, I'm participating in her
Stream of Consciousness Sunday
for the first time. Here's how it works:
Write an intro to the post if you want but don't edit the post. No proofreading or spellchecking. This is writing in the raw.
Publish it somewhere. Anywhere. The back door to your blog if you want. But make it accessible.
Add the Stream of Consciousness Sunday badge to your post.
Link up your post below.
Visit your fellow bloggers and show some love.
Intro: I'm in Vegas for Tribefest. I'm not a gambler. I'm also in Amy Oscar's Soul Caller Training class, through which I've confirmed something I already knew: that I'm "a sensitive," or someone who's easily overwhelmed and often takes on the emotions of others. That being said, here we go…
********************************
Bright flashing lights, whizzing signs and bare legs abound. Women crammed into their sequined dresses like sausages. The loud noises make me want to cover my ears like a child scared of a crack of thunder; the smoke assaults my nostrils and I wonder why all the waitresses are like tiny China dolls, wearing even tinier getups and nude hose with their open-toed gold shoes.
People sit at slot machines winning or losing big. They sit and sit and sit and I wonder what makes this place so magical. My eyes, ears and nose are overwhelmed, I feel a whirring in my head and the swirling carpet makes me dizzy. My eyes follow the bright red pattern as I walk, not wanting to look around because it's too much. It's all too much.
Too many people going too many directions and they're having the time of their lives.
Someone bumps into me and I look up at the swarm of bees buzzing around the casino, alighting here and there. I feel like a lab rat caught in a maze. I stop to sit at a slot machine and stare because at least people watching is fun. But it also makes me pensive. Who are they? What are they here for? What do they do, where are they going? What are their lives like when they're not in Vegas?
Then, invariably…WHERE AM I GOING? WHAT AM I DOING? WHO DO I THINK I AM, passing judgment on the girls in short skirts? I have a lot to learn and a long way to go. These people are having fun. Which is apparently something I'm clueless about.
I guess I'm just a sensitive girl sitting in the middle of the desert trying to figure it all out.