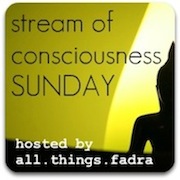 #SOCsunday" border="0" />
Today's SOC prompt via Fadra:
Call it whining. Call it ranting. Call it first world problems. I have perspective but sometimes there are things you just don't want to do. Maybe you're tired or you need a break or you'd rather spend your hard-earned money elsewhere. But there's got to be something you don't want to do. I'm full of those things tonight and I'm going to let them all out.
Today's Prompt: What are the things in your life right now that you just don't want to do?
The End.