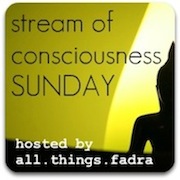 Today's (Optional) Writing Prompt: What causes you anxiety? Not just stress but true anxiety. How does your body and mind generally deal with it? How do YOU deal with it?
**********
Exhibit A: THIS causes me anxiety.
And then this, Exhibit B:
Abby, one of our six-year-old twins, wrote these notes over the weekend in a torrent of tears. Her Friday folder, which comes home with notes from her teacher every other weekend, indicated that while Abby is "very intelligent and mature for her age," she is also very "bossy" (teacher's word, not mine, not that we don't know this already) and this is causing "friction with friends."
I'm anxious because I'm afraid she's going to alienate everyone and end up a loner like me. I'm anxious because her father and I really lit into her about all of it and she cried terrible tears and in between heaving, jagged sobs, she said things like, "I feel like you hate me," which then made ME want to cry. I felt as if we'd handled things harshly and she's going to need therapy before she's thirteen. Part of it is her drama-queen tendencies, and part of it was real, I could tell. We assured her we could never hate her, it's her behavior that we're unhappy with. But the notes are telling. And is it horrible that in the midst of all this, I was also feeling proud that she wrote them all by herself (it was her idea), no spelling help at all? Despite her reasons for having written them.
And then there's my pirate girl, Izzy, who is quite happy being a loner and I'm more anxious about her eye patch than SHE is. In fact, she begged me to order a few more of the fun felt patches we found at www.patchpals.com, so I let her choose three. They're already on their way. Still, I'm anxious. Not sure how long she'll have to wear it, wondering if her vision in her bad eye is improving at all. Wondering if it will become problematic this summer. I hope the kids at school continue to be cool about it. But in between all of this, I'm just anxious.
And I'm anxious because Piper has a growth the size of a blueberry on the inside of her upper lip. I called the pediatrician and described it. He said unless it changes size/shape, that it can wait until her 6-month checkup, which is next week. But I am so anxious about it. Terrified it's some tumor that's going to take over her face and she'll need surgery or that she could have some kind of mouth cancer and they'll have to carve it out of her mouth. She's my little red bean and it makes me anxious.
I'm also anxious because of the piece I'm working on for tomorrow, which is about my dad and the first time I remember meeting his partner, Kory. It's a non-fiction/memoir piece, constructed from bits and pieces of memory. I never want to offend my dad (or anyone else I write about) on this blog. Which is ironic because there's been a lot of chatter in the blogosphere lately about how far is too far, and what is too much to share virtually? They way I see it, a lot of this may end up in a book someday anyway…
Lastly, I'm anxious about my Voices of the Year post for BlogHer. I don't know how finalists are selected. If the thumbs-up/votes count for it, or if it's mostly the judges. Or both. I'm anxious because I might be a finalist and I'm anxious because I might NOT be a finalist. Either way the results might send me reeling. And I'm just plain anxious about even GOING to BlogHer. I might need to get some extra pills beforehand.
And now? I'm tired of the word anxious. Aren't you? Thanks, Fadra, for letting me air all this out.